MG
I'm one of the older fiddlers, a throw-back to the 70s folk revival. Ah, those were the days when it was cool to play in a Welsh band named after a stone-age tomb. I played in two Welsh bands, and BOTH were named after stone-age tombs.
I've been with OFG since 2005, and I like the fact that we try lots of different styles, and some of us are even composers (not me, I hasten to add). I also play accordion, mainly adding the oom-pahs. I used to plink on a harp too, but it needed a lot of tuning. This is why the accordion is better – it can't be tuned at all, and that's THAT.
---
FG
Originally a classical violinist, I started playing when I was seven and carried on into my teens. I used to love orchestral playing, and met my husband playing in the Oxfordshire County Youth Orchestra. I've also always loved folk music, and was delighted to learn of OFG in 2012 – I went along to a gig and it inspired me to dust off my fiddle and give it a try!
I've been a member of the group since then. I now enjoy teaching my daughter the tunes we learn too, occasionally accompanied by her big brother on guitar.
---
AB
A former Primary School Head Teacher, I started teaching myself the guitar in 1963, the ukulele in 1964 and playing the double bass in 1966, playing in a folk group and jug band in 1967. Since then I have been interested in getting a tune out of as many instruments as possible.
As well as OFG (joined 2004) I currently play bass and mandolin in a barn dance band, the double bass, phono fiddle, watering can, and mandolin in a comedy band – The Boodlum Band, ukulele in a ukulele band – Ukolade, banjo for an Appalachian Dance Group and harmonica for Oxford University and City Morris.
---
TB-R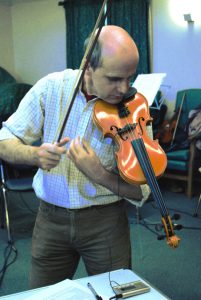 I've been fascinated by musical instruments and by trying to play them all my life. In 1998 I was having lessons with a violin teacher who played both classical and folk. She told me about the new Oxford Fiddle Group and we went to the second ever meeting. It's been a load of fun ever since.
I enjoy playing for dancing both in a barn dance band and also playing solo for English step-clog. That's how I met my wife! My "one-man band" Chartered Accountancy practice occupies my worktime.
---
BM
I am a recently retired primary school head teacher, living in Abingdon. I started violin lessons a couple of years ago so when I finished work earlier this year, I began to look around for a group to play with and discovered The Oxford Fiddle Group. Sadly, I had only been able to get to two meetings before the lockdown but I'm very much looking forward to meeting up and playing together again!
---
RES-W
Totally Oxfordian and formerly a medical biochemist turned teacher now retired, my fiddle and recorder playing began when I was about six years old. I was taught in a traditionally classical style and played in small orchestras whilst at school. Folk music caught my interest at university and classical music got left behind.
I have played with the OFG for many years, and with other local bands for ceilidhs, events and concerts. I love the challenge of learning to play new instruments in the folk tradition and now have the English concertina and whistle to add to the fun and enjoyment of playing music.
---
PD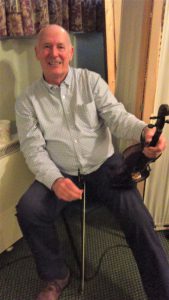 I joined OFG just after it moved to Headington Quarry Hall – at that time I had just started playing again for the first time since I left school! Haven't looked back from then!
Whilst I was teaching, we formed a Folk Instrumental Group for students at school and enjoyed playing concerts both at school and in the Community.
When not playing the fiddle, you'll find me drifting down the River Thames in our skiff!
---
MM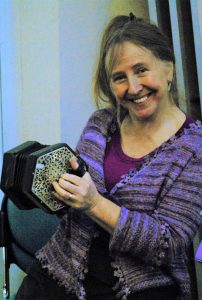 I have been a member of Oxford Fiddle Group for ages now, even though I don't play the fiddle. I joined for something creative to do on a Tuesday evening and so continue to wrestle with an English concertina. It's the traditional folk music that drew me to the group.
My grandmother played Scottish music on the piano on many Sunday afternoons during my childhood in Surrey, and this must have been an early influence. During adolescence I fell for Bob Dylan, Joan Baez, and then Martin Carthy, Shirley Collins and Planxty. Years later I learnt the concertina, enjoying playing dance music from Britain, the US and Ireland. I am part of the Mouse and Trousers ceilidh band, as I particularly like to be immersed in a wall of sound.
---
M
I have recently joined OFG. I love folk music so joining OFG was a fantastic opportunity to learn some new tunes I am attempting to keep up with the pace and commit the variety of tunes to memory.
The people here are very warm and welcoming, as well as talented.
---
CE
I was at the OFG on the first night it met and I've been part of it ever since, so 20 years plus now. I was quite young when I first started….I think my greatest achievement is getting the fiddlers out of their black uniform (well some of them!) into purple.
I love playing all sorts of music so I also play contemporary folk with a threesome, the Oxford Jesters, (we compose our own songs), B flat baritone horn with the City of Oxford Silver Band, piano with The Oxford Piano Group and descant and tenor recorder with friends. It's surprising that I have time to do the day jobs, Librarian at two Oxford Colleges.
---
DH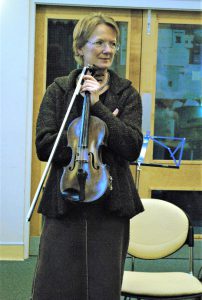 Friends took my kids and me to Towersey Festival 20 years ago. That began a journey from playing classical viola to playing folk fiddle – I'd had no idea what fun there was to be had!
I joined OFG after meeting another member at a Kathryn Tickell workshop, shortly after moving to Oxford in 2008. It's opened my mind to new ways of learning and playing, and a whole new world of music-making. I play folk, classical, and French popular music with several groups in the Oxford area, and enjoy writing my own music too.
---
MC
I had arrived in Oxford just two days before I met Jed in 2003 at a workshop run by Kató Havas. I asked him whether he played in a group so I found out about the OFG. I joined it because I liked folk music and, being a classically trained viola player, wanted to play something different from what I usually played, wanted to learn to play by ear and make new friends. I always really enjoy playing with OFG, the friendly atmosphere, learning a variety of new music, the concerts and social occasions, also with players from other countries. A very enriching opportunity.
---
KL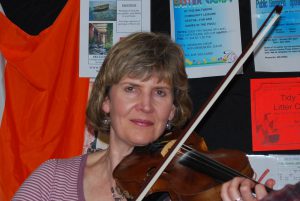 I'm a Business Development Manager, a yoga enthusiast, seasonal gardener and part-time musician. My family life was filled with music and from a young age I took recorder, piano and violin lessons, playing with family members in small ensembles and amateur orchestras. After an extended break my beloved fiddle emerged once again and I was inspired to join OFG after seeing them play at an Oxfordshire festival.
Since 2007 I've performed with them at home and abroad and have also joined smaller music circles. I love the freedom, story-telling, emotion and history of folk music. Kathryn lives near Oxford.
---
CM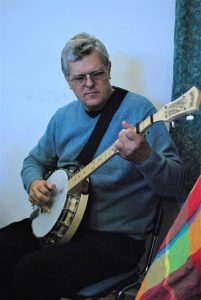 I have been a member of Oxford Fiddle Group from the start. I live in Oxford and I have many musical friends here. I play some fiddle with the group, but my main role with OFG is to accompany the whole group on guitar, and sometimes banjo or bouzouki. I also provide some vocal.
I play and sing with various other musical groups, including the Mad Marston Hares, a Celtic/American crossover trio, Mouse and Trousers, a ceilidh dance band, the Hole in the Head Gang, a bluegrass band, and the Ozarks, an Americana band. For the US traditional material I also play dobro and mandolin. And I help organise an 'old-time' session and attend other music sessions locally. I hope that I bring a variety of influences to OFG from these experiences.